Darby Creek
Walking Trails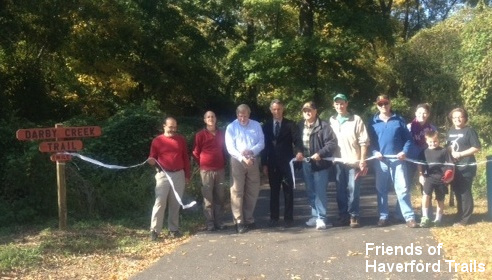 The map below shows the three major components of the Darby Creek Trail within Haverford Township's Darby Creek Valley Park greenway. (All are shown in dark orange.) Each segment offers a wonderful opportunity to stroll or jog along the bank of Darby Creek through the woods.
You can zoom in and out, and pan around on this map. Click on the "four corners" icon (upper right) to open a larger full-screen map, and on the small box (upper left) to open a list of trails.
You can access the Northern Segment (gravel, dirt and grass surfaces) from Darby Creek Road just below Haverford Reserve. You can park in the bottom lot within the Reserve, by the Dog Park and the Southbrook Trail entrance. Walk down Parkview Avenue to Darby Creek Road, then circle along its wide, striped shoulder. After you pass under the Marple Road bridge, look for a grassy access way on your right that leads to the creek and the trail. At the southern end of this segment, you reach private property. Since there is no access point at this end, you need to retrace your steps back toward Haverford Reserve.
The Center Segment is a first class, multi-use macadam trail (great for babay strollers!). It connects Merry Place in Glendale Park to the school bus yard off of Old West Chester Pike and Hilltop Road, just south of the Barnaby's restaurant. In addition, the Hilltop Spur (shown in pink on the map) connects the Hilltop neighborhood to Merry Place and the Darby Creek Trail. A fairly steep woodchip and dirt foot trail, it leads from the Hilltop and Steel Road ballfields and park areas down to the back corner of the township Parks and Recreation office parking lot. From there you can carefully cross Glendale Road and head toward the Merry Place gazebo across a small footbridge to access the park, creek and trail. By car, you can park either at Merry Place or at the northern trailhead off of Hilltop Road, between the school bus yard and the creek.
The Southern Segment (grass, stones and dirt) passes along the edge of Jack McDonald Field along Burmont Road. Then carefully cross Burmont at Warrior Road, where the field's gravel parking area is located. Head to your right and proceed around the vehicular fence and gate to continue along the creekside, all the way to the Hess gas station where Township Line Road swings into State Road.
---