Haverford Township's
On-Road Bike Route
In 2009 Delaware County issued the Delaware County Bicycle Plan, prepared by its Planning Department. This plan sets forth a recommended prospective network of bicycling facilities throughout the county. One selected road in Haverford Township was College Avenue, which is far from an ideal road for bicycling. The Bicycle Plan makes provision for better, parallel alternate roads to be substituted. In the case of College Avenue, a better choice exists along Buck Lane, Meadows Lane and Williams Road, just one block over. Between Haverford Road and Darby Road, these three consecutive streets cover a distance of 1.33 miles. In comparison to College Avenue, these roads are wider (30 feet vs 23), have less traffic (under 2,000 vehicles daily vs 7,700), and have a lower posted speed limit (25 mph vs 35). In addition, Williams Road ends at Darby Road right across from Parkview Drive, the entrance into Haverford Reserve. There is a traffic signal with pedestrian pushbuttons at this intersection, plus a macadam sidepath extends along Parkview to the recreational open space and trails within the Reserve.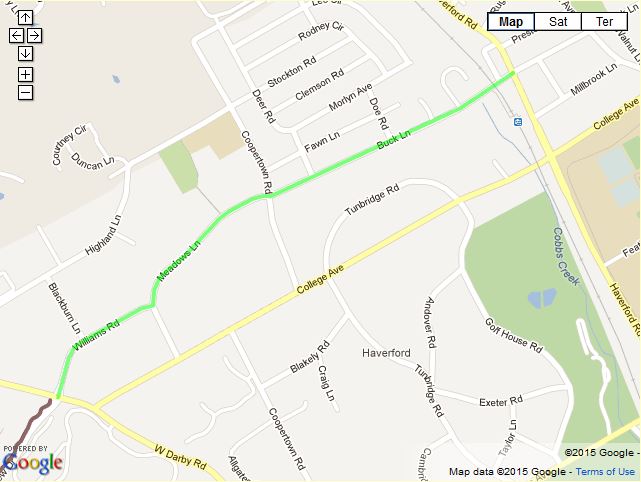 For a number of reasons, the best type of bicycle facility to use in this situation is a Bike Route. Unlike a dedicated Bike Lane, a Bike Route has no impact on the incidental parking and other present uses of the sides of these roads. This includes walking and jogging, since there are no sidewalks. It is also compatible with the low automobile parking usage and traffic volume. While virtually all of the township's residential, neighborhood "minor" roads are suitable for bicycling and do not need marking, this route has been marked since it serves as the alternate to a county-designated major route. Eight U.S.-standard green Bike Route signs were installed, with destination identifiers and turn arrows where needed. This is the minimum number required to meet national traffic marking guidelines. The signs and posts were purchased by the Friends of Haverford Trails using donations from township residents. Later, a grant from the Delaware County Cycling Committee of the Bicycle Coalition of Greater Philadelphia reimbursed this expense.
| | |
| --- | --- |
| | |
The simple and low-cost effort made to purchase and install these signs has resulted in an obvious and sizable increase in the "non-motorized activity" along these Coopertown neighborhood streets. Haverford's Bike Route was just the third such designation in Delaware County. We thank the township administration, Commissioner Jeff Heilmann, and the Coopertown Civic Association for their support and help in making this neighborhood-friendly Bike Route a reality.
---